By Katy Shipley
Sun Valley lies nestled in the Northern Rockies of south-central Idaho.  From the day Count Felix Schaffgotsch came upon Ketchum Valley in 1936, this place has brought a sense of awe to all to visit.  Since then, it has developed into an iconic ski destination of America.
Five distinct mountain ranges surround Sun Valley and beckon backcountry enthusiasts to explore their jaw-dropping terrain. Based on your experience level and conditions, routes can vary from mellow powder bowls to more technical, exposed terrain.  Big mountain lines tower over more gentle runs below.  The area is so vast you are left to enjoy your powder skiing in quiet solitude.  With the Sawtooth National Forest spanning as far as the eye can see, it's no wonder backcountry exploration has become a thing in this area.  
History Behind the Idaho Backcountry
In the 1930's, Averell Harriman was creating Sun Valley Resort, the first ski destination in America.  He decided to construct two ski touring huts, the Pioneer Cabin, and the Saw Mill Hut.  Harriman hired Florian Haemmerle as the head of the Alpine Touring School and keeper of the Pioneer Cabins in 1938. Haemmerle was an authentic Bavarian guide who lived and breathed the mountains. His tours out to the huts were an instant success and he was one of the first people to have guided backcountry tours in the States.  The creation of these huts and the Alpine Touring School was the beginning of a now well-established backcountry culture.
Since the first tours led by Haemmerle, people are still drawn to the backcountry areas surrounding Sun Valley 80 years later.  A network of huts and yurts make backcountry touring fun and even a little luxurious.  Easy access to Galena Summit from Highway 75 allows for convenient day tours right from the parking lot.  Between the Sawtooth, Pioneer, Boulder, White Cloud and Smoky Mountain Ranges, this place is a backcountry mecca.
Guided Adventures
Two guiding companies do a fantastic job of facilitating backcountry exploration near Sun Valley.  Sun Valley Trekking and Sawtooth Mountain Guides specialize in guided backcountry adventures.  These companies guide day tours, hut trips, mountaineering expeditions and even offer avalanche education courses.  With a full line up of AMGA certified guides, either operation will be taking you to stashes that you may never find on your own.
"The advantages of hiring a guide are many.  You have the access to the most current conditions, local knowledge, avalanche rescue gear and someone there for risk management." – Erik Leidecker, Owner/Guide, Sawtooth Mountain Guides
Previous backcountry experience isn't necessarily required to join a tour. With some strong downhill skills and a decent fitness level, your guide can pick an objective that is appropriate and fun. If you are feeling a little rusty, warm up at Sun Valley Resort.  There's no better way to prepare for the backcountry terrain than getting your legs tuned up on Bald Mountain the day before.  Whoever complained about having the best of both worlds?
Sawtooth Mountain Guides, based out of Stanley, Idaho, is an Accredited Mountain Guide Serviceby the AMGA.  They operate in the Sawtooths, Smokys, Boulders and in the Lost River Range.  This operation exudes professionalism in what they do and enjoys sharing their passion for the local mountains.
If you are in Sun Valley and looking to beat the crowds for a day, book a tour on Galena Summit with an SMG guide.  An 8hr day of skiing is just $170 per person when you have a group of 4 or more.  With a cozy guide to guest ratio of 4:1, get three friends together and you are bound to have some fun.  Erik Leidecker, a co-owner of Sawtooth Mountain Guides gave us an idea of what a day on Galena Summit looks like.
"The ski touring on Galena Summit is the most convenient.  A typical day up there has a 9 am meeting at Galena Lodge which is 30 minutes north of Sun Valley.  We have a quick briefing at the lodge, then head up the pass. You get a full day of skiing in an 8hr. window, all of which is directly accessible from the lodge.  After touring, you can wrap it up with a drink at the end of the day.  It's definitely a destination for winter sports people in the area."
Backcountry Hut Exploration
A wonderful network of backcountry huts spans from Sun Valley to Stanley.  These huts allow skiers to explore expansive areas and return to a warm, cozy bed afterward. You can even enjoy a sauna or hot tub after a long day of skiing.  Trek a quick mile to the nearest huts, or link a couple together and find yourself deep in the backcountry.  Incredible terrain lies in front you no matter which hut you step out of in the morning.
Sun Valley Trekking, based right in Ketchum Valley, has been leading backcountry experiences for over 35 years and is recognized for having created one of North America's oldest and most distinctive backcountry hut systems.  With so many choices, which hut do you choose?  Luckily for us, Joe St. Onge, the Owner and Cheif of Guiding Operations at SVT, gave us the inside scoop.  According to Joe, all the huts are in spectacular locations and provide excellent skiing.  Each hut is unique in how they built it, the design and the ski terrain that surrounds it.  However, there are definitely some crowd favorites.
Backcountry Hut Rankings with Joe St. Onge
Both of these huts are in the Sawtooth Range which provides phenomenal skiing in a stunning location. Mountains shaped like granite teeth split by steep north facing couloirs, beautiful powder bowls and no one around.  What's not to like?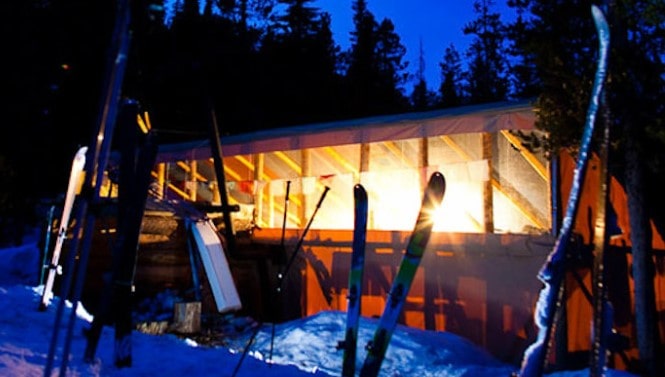 These two compete for the #3 spot, depending on the year.  They are located in two different ranges closer to Sun Valley: the Pioneer Yurt in the Pioneer Mountains and the Coyote Yurts in the Smokey Mountains.  These are high huts, sitting at 8700', but beyond their same elevation, they provide very different ski terrain.
Pioneer Yurt is surrounded by what I consider some of the best ski terrain in the lower 48 states. Yep, I said it.  Big peaks, giant runs (some pushing 4000'), steep lines, mellow tours, massive bowls, gentle ramps all with a phenomenal backdrop.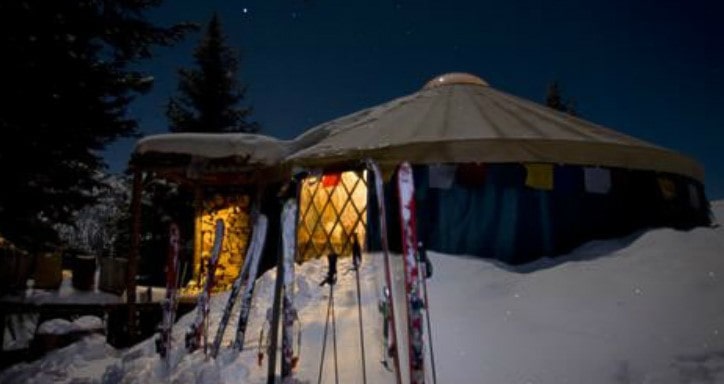 Coyote Yurts is the probably the most reliable powder skiing hut in the region.  A giant forest fire came through a few years back and destroyed the old yurts, so we had a chance to rebuild what may be the perfect huts.  There are endless slopes on all aspects in a region that receives consistently more snow than the surrounding areas.  If I want to book a hut for reliable "feel good happy powder skiing" a year in advance, this is the one.
This hut sits in the same zone as Coyote and has similar terrain and reliability for powder skiing and is a really cool, unique and cozy hut, based off a Viking Long House design.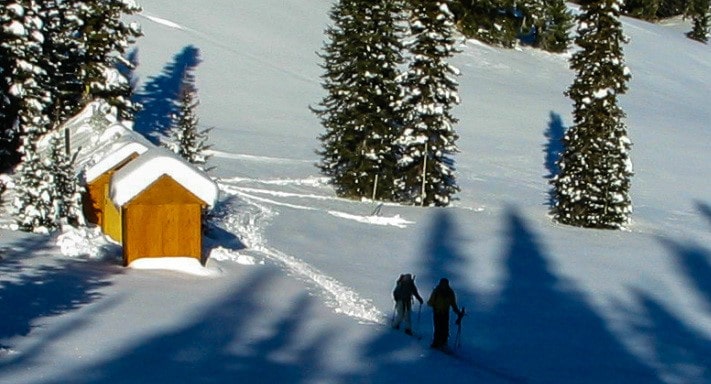 These yurts have an easy 1-mile ski in and are surrounded by fantastic beginner to intermediate terrain.  Boulder is a favorite for 1st timers, families with kids, and folks looking to have a backcountry party. These yurts are often overlooked by more core skiers because they think it's too close, but in reality, there are phenomenal big mountain lines that rarely get skied quite near the yurts.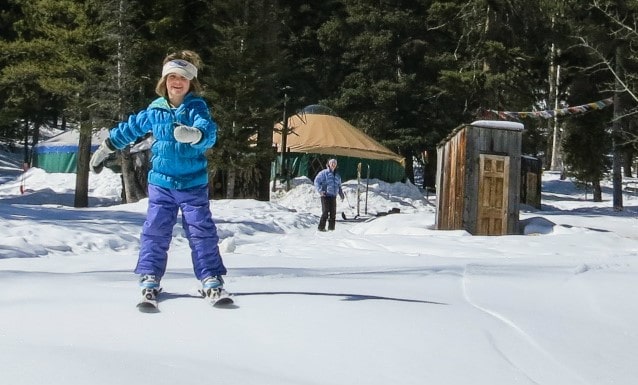 Self Guided Adventures
If you are more of the independent type, you are faced with endless possibilities.  Unless you are an experienced local, you will probably want to stop by Backwoods Mountain Sports in Ketchum and pick up a book or ask a few questions.  With all the terrain surrounding Sun Valley, a map, guidebook, or some good advice will be welcomed.
Before heading out into the Idaho backcountry, check out Sawtooth Avalanche Center.  This site is great for guided and non-guided adventures alike.  A resource like this at your fingertips will help immensely when planning your day in the backcountry.
Have a couple days to spare?  You can rent those same backcountry huts through Sun Valley Trekking.  If it's your first time doing a hut to hut trip, Sun Valley Trekking will send a "Hut Rent Guide" with you for the first day.  The guide skis in with the group on Day 1 and gets the group oriented to the function of the huts and to the local ski terrain and options.  From there, the guide will leave you to enjoy the hut and the terrain with your group.
When to Go
According to Joe from SVT, mid-December through the end of April is their winter operations season and anytime during this window will be good.  He mentions that earlier dates provide cooler powder skiing, but he personally loves April.
"April is the best ski month of the year with deep snowpack, generally good stability, big mountain lines open up with powder on the norths, corn on the souths, and the days are long."
Backcountry touring in Sun Valley, Idaho is great for those new to touring, as well as those looking to add to their existing experience.  The terrain is as challenging as you want it to be.  The network of huts is about as good as it gets.  There are guides to facilitate a safe and relaxed experience. When you consider the ease of access, great weather, and abundant resources, Sun Valley, ID might find it's way to the top of your to-do list.
Reposted from snowbrains.com.