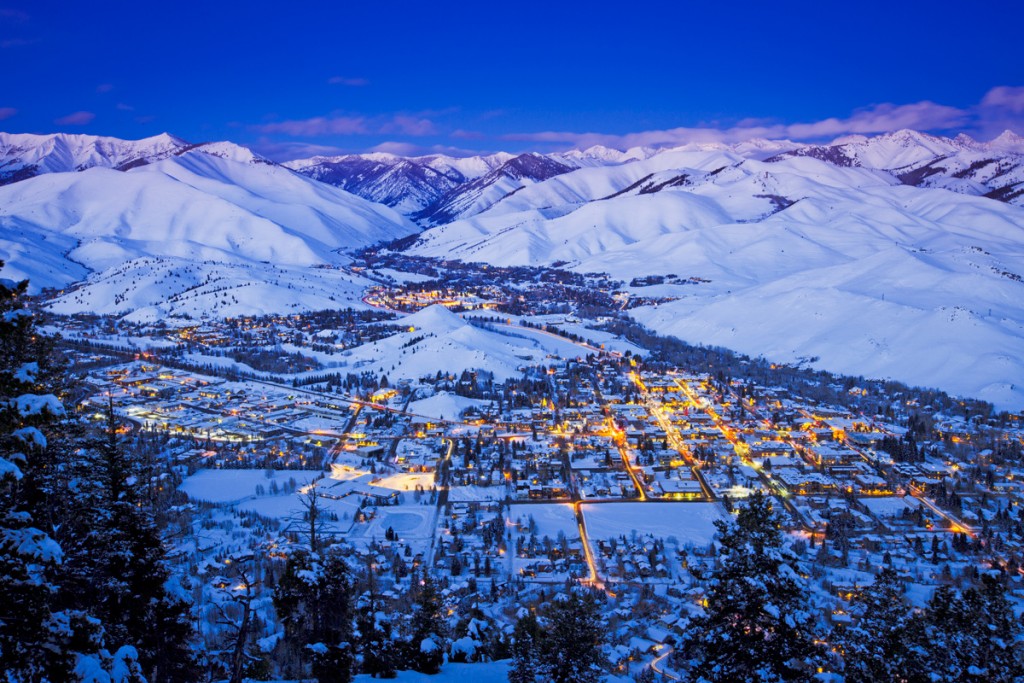 photo: Kat Cannell // Visit Sun Valley
Sun Valley, ID is America's original winter playground for good reason. A foundation built around the classic ski vibe was just the beginning of things. Now in its 81st winter, Sun Valley has come leaps and bounds in diversifying itself beyond the traditional lift-accessed roots. An intense struggle can overwhelm those with extreme F.O.M.O. or indecisive tendencies when choosing between the plethora of activities. To help you along, we've narrowed down the list down to highlight our top 15 things you must do in Sun Valley this winter. Whether you are up for a grand adventure outdoors, or prefer a mellower pace around town, there's bound to be something to match your cadence. Here are a few of our favorites–feel free to mix and match to create your ideal Sun Valley getaway.
Push Your Limits
1.  Skiing on Bald Mountain "Baldy": It's no secret that the behemoth of a mountain towering above the town of Ketchum is the main draw to this area. With more than 3,000 feet of consistent fall line skiing, the best groomers in the world, a nice mix of luxurious and quaint lodges serving everything from tacos to fondue, and minimal to non-existent lift lines, Baldy offers a world class ski experience. Whether you are the hardest ski bum or the softest ski bunny, experiencing this historic ski hill is a must for any visit to this area. Plan at least a full day (or better yet a full week) to explore all Baldy has to offer. | Duration: Full or Half Day
photo: Greg Randolph // Visit Sun Valley
2.  Heli Skiing with Sun Valley Heli Ski: For 50 years, Sun Valley Heli Ski (SVHS) has set the standard for American helicopter skiing. America's first heli-ski operation, SVHS has access to 750,000 acres of powder skiing. With pick-ups available from the top of Baldy, you can get a few warm up runs on familiar terrain before flying directly to the untouched slopes of the Idaho backcountry. | Duration: Full Day
3.  Backcountry Ski Touring off Galena Pass: If accessing remote peaks via helicopter is not quite in your budget, take advantage of the easy roadside access from Galena Pass to hike your way to the top of an untracked fields of powder. Options range from half day tours on mellow and generally safe terrain, to full day epics on the highest peaks where avalanche knowledge, risk management, and exercising sound decision making, gives you a sense of accomplishment to match the glorious views you enjoy from the summit. Be sure to read the avalanche report before going! | Duration: Full or Half Day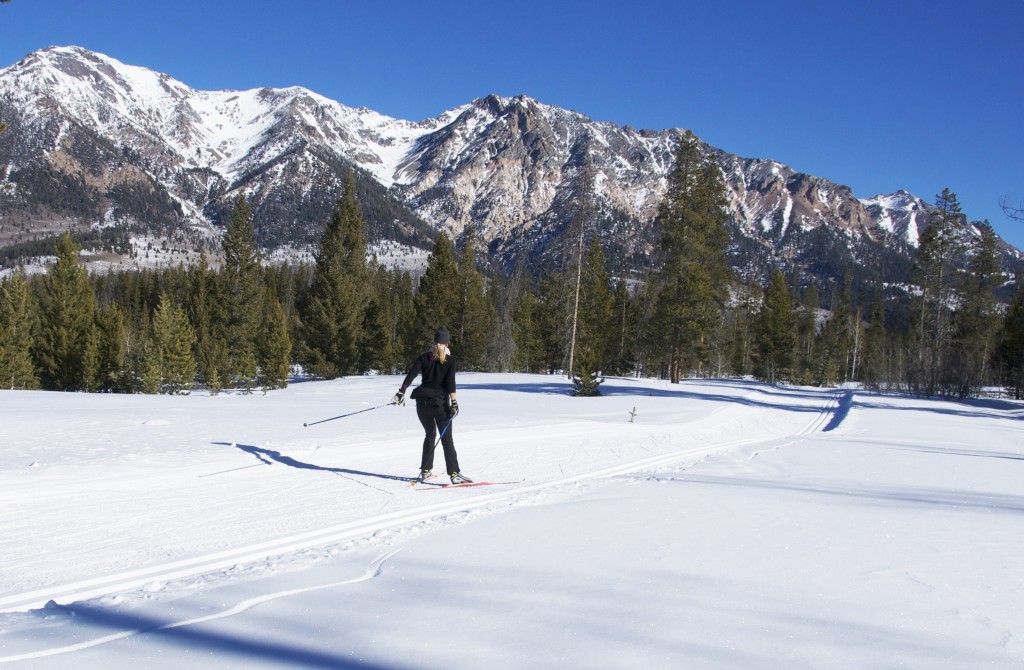 photo: Visit Sun Valley
4.  Nordic Skiing from Galena Lodge: For those with strong lungs and legs who prefer the act of user generated momentum over the thrill of downhill skiing, the area's Nordic trails are hard to beat. With 200+ kms of groomed trails rolling out of our backdoor, Nordic skiers can get in a quick ski in just a couple of hours. Our favorite trails are located 25 minutes north of Ketchum near Galena Lodge where exceptional views are the norm. The Boulder Mountains tower to the East of the Harriman Trail—a perfectly groomed, winding track that takes you alongside the Big Wood River. Make your way back to the Galena Lodge to replenish depleted calories by enjoying a Ginger Sesame Bowl, Elk Burger, or one of their mouth-watering gourmet sandwiches. | Duration: Full or Half Day
5.  Fat Biking at Bigwood Sports Park: Looking for a good workout but not a fan of the two-planks? Check out the Bigwood Sports Park. Located a mile north of Ketchum, here you can rent and ride fat bikes through their network of undulating groomed trails. With oversized tires and minimal tire pressure, fat biking brings a new perspective the two-wheeled experience. You might find that riding will become a year-round part of your Sun Valley experience. | Duration: Half Day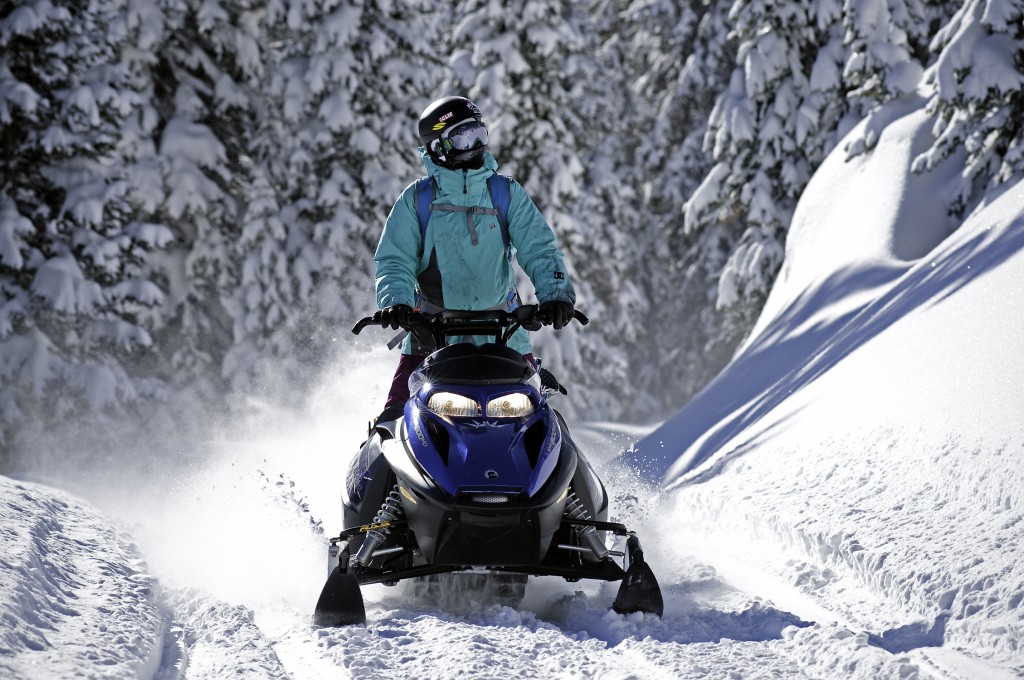 photo: Tal Roberts // Visit Sun Valley
6.  Snowmobiling in Smiley Creek: Do you prefer the roar of an engine to the sound of your own huffing and puffing around a fat bike or Nordic track? If so then snowmobiling in Smiley Creek is for you. Located on the other side of Galena Pass, roughly 45 minutes north of Ketchum, Smiley Creek is a small outpost at the foot of the Sawtooth Mountains that offers cabin rentals, hot meals, groceries, and snowmobile rentals. Cruise the hundreds of miles of groomed snowmobile tracks with a guide, or rent one on your own to explore the logging roads and deep powder fields strewn around area. | Duration: Full Day
7.  Paragliding with Fly Sun Valley: Perhaps one the best perspectives of the Sun Valley area comes with the sensation of soaring. Enjoy a bird's eye view while flying off Baldy with a certified paragliding pilot from Fly Sun Valley. Experience a feeling only the birds may know better, surrounded by breathtaking views, while safely harnessed to your expert instructor. Bundle up and allow two hours for this unforgettable experience. | Duration: Less than a Half Day
Tone it Down
photo: Ray J. Gadd // Visit Sun Valley
8.  Spa Day at Zenergy or Sun Valley Lodge: Treating yourself is good for the soul. Massages, facials, and other spa treatments can all be found at either Zenergy or the Spa at the Sun Valley Lodge. Both boast outdoor hot pools, full service spa amenities including fitness center and yoga studios, and professional and friendly staff members. This rejuvenating experience will prep you for a fun-filled night out on the town. | Duration: Half Day
9.  A Night Out on the Town (disclaimer: could also fall under 'Push Your Limits'): The best nights out involve mixing it up and hopping from hot spot to hot spot. Start your evening with cocktails at the newly opened Limelight Hotel lounge. Before the drinks go to your head, hit the Pioneer Saloon for dinner, where the prime rib comes in thick slabs and is perfectly cooked. With dinner taken care of, it's time to explore the nightlife of Ketchum. Start out at the Cellar Pub to carry on your dinner conversation or test your skills on the shuffleboard table in the backroom. When it's time to kick it up a notch, check Whiskey Jacques' for live music and dancing. Be sure to save some energy for a night cap at the Casino. Here the only thing you gamble is how well you will feel the next morning but don't worry about that now, you are having one. With taxi cabs parked right outside, you can make a clean getaway to enjoy a well-deserved night of sleep. | Duration: Full Night
10.  Thrift Store Shopping: Ketchum's premier thrift store is called the Gold Mine and for good reason. With Sun Valley's affluent second homeowner population, you never know when you might find something valuable such as a Chanel purse or a vintage fur coat amongst the silly one piece ski suits of yesteryear. One person's junk is another's treasure, so lose (or find) yourself in the discarded items of the Gold Mine. | Duration: Less than a Half Day
11.  Christina Potters Ice Rink and Sun Valley Suns Hockey: Skate outside at one of the Northwest's largest un-refrigerated outdoor ice rinks at the Christina Potters Ice Rink. Built and maintained by the Ketchum Parks Department, this spot offers up free admission, free skates, pucks, helmets, and hockey sticks to borrow. This is your opportunity to channel your inner Wayne Gretzky in the shadow of Bald Mountain. Yearning for more hockey? Check out the Sun Valley Suns, the local men's team that has been punishing opponents for more than 40 years. | Duration:  Less than a Half Day
12.  Day Trip to Stanley: If you feel like you're in in need of a change of scenery then it's time to hop in the car and head north to the quaint mountain town of Stanley. Enjoy stunning views of the Boulder and Sawtooth Mountains as you make the hour and fifteen-minute drive. Once in Stanley, gawk at the jagged spires of the Sawtooth's while snowshoeing, visit one of the area's many hot springs, or learn the sport of curling at the public outdoor ice rink. | Duration: Full Day
13.  Winter Fly Fishing: Yes, fishing season still happens even when there is snow on the ground. In fact, it is one of the best times to fish as you are likely to have the river all to yourself. Ideal for days when the temperature is above freezing, see a whole new side of Sun Valley while enjoying a professionally guided trip from one of Sun Valley's local outfitters. Silver Creek Outfitters and Lost River Outfitters both have a great line-up of guides and top of the line equipment. | Duration: Half Day
14.  Horse-Drawn Sleigh Rides: Create a winter memory that will last a lifetime with either a romantic or family sleigh ride. Let the horses do the work as you cuddle under blankets while dashing through the snow in a classic horse-drawn sleigh. A one-hour tour takes you past the snowy hills of Sun Valley and Ernest Hemingway's Memorial or you can make an evening out of it by including a fantastic dinner at Trail Creek Cabin. | Duration: Less than a Half Day
15.  Bowling at the Sun Valley Lodge: Bowling is one of the few activities that everyone can enjoy. Whether you are with family or on a bachelor party with the guys, the newly renovated bowling alley at the Sun Valley Lodge is a good fit for all types. Complete with game room, new bar and food service, this updated party spot still retains its original 1950's charm. | Duration: Less than a Half Day Now you've got the goods to get out and make the best winter itinerary possible here in Sun Valley. We hope to see you out there!