---
DECKER BULLOCK SOTHEBY'S INTERNATIONAL REALTY
Matching Discriminating Buyers with Extraordinary Properties
Decker Bullock Sotheby's International Realty has focused on upper end Luxury homes of Marin County real estate, along with many key properties from the San Francisco real estate market, since 1991. Located on the northern, golden side of the Golden Gate Bridge, 20 minutes from San Francisco's downtown Financial District, Marin County is a wonder of nature with protected open space consisting of rolling hills with grassy hilltops, Mount Tamalpais, beaches and coastal redwood stands, along with charming winding roads leading to several small intimate towns with San Francisco Bayside luxury waterfront homes and hill side estates, and yet close to all the amenities of city life. There is no better location for enjoying the experience of both small town and multi-cultural city lifestyles than living in one of the towns of Marin County. The cities of Belvedere, Tiburon, Mill Valley, Kentfield, Ross and Sausalito include some of the most beautiful properties in the world. Sausalito, Tiburon and Belvedere real estate feature properties with grand views of the San Francisco city skyline, Golden Gate Bridge and/or San Francisco Bay. Kentfield and Ross real estate includes large park-like estates and Luxury homes with views of Mount Tam and wooded hillsides. Mill Valley real estate includes homes with views of San Francisco and the Bay, along with country-like settings in the redwoods.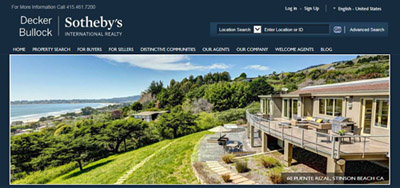 Decker Bullock Sotheby's International Realty agents are recognized as industry leaders with local expertise providing the same quality service at all market levels of Marin County real estate and are uniquely positioned with our affiliation with Sotheby's international Realty® to assist our clients to successfully meet their real estate objectives. When buying or selling a home, we are at your service.
---
The Collection of an Extraordinary Brand
"Anthology" explores the unique characteristics that define the Sotheby's International Realty® brand. From our 269 year old distinguished heritage to spotlighting some of our global media collaborations and more, Anthology takes viewers on a journey through many of the philosophies and qualities that set our brand apart. Narrated by the senior leadership that guides our brand, Anthology is the first chapter of many more to come, all designed to help support our vision of artfully uniting extraordinary homes with extraordinary lives.